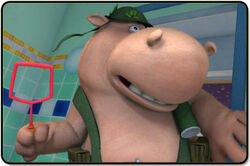 Pat is a happy-go-lucky hippo with a heart as big as his backside. He is clumsy, childlike, enthusiastic and a complete drama queen, but lovable none the less. He loves bananas, video games and dressing up. He is especially fond of practical jokes which often involve his best brother Stan. He is 45 Years Old , He Was Born on December 8 , 1946.
Coming Soon
Ad blocker interference detected!
Wikia is a free-to-use site that makes money from advertising. We have a modified experience for viewers using ad blockers

Wikia is not accessible if you've made further modifications. Remove the custom ad blocker rule(s) and the page will load as expected.